India's story, told through its cinema: How the hopeful 1950s were braver than the strident 2020s
Cinema, like most art forms, represents society, and therefore, filmmakers can be called historians who narrate their environment and envelop it in a time capsule accessible for eternities. The debate over whether cinema influences our environment or whether our reality impacts what we see in movies has never come to a definitive conclusion and perhaps, like most art, it will debated for a long time. However, from what we have seen in Hindi cinema over the past few decades, it can be said that the film world and the real world often mirror each other.
the 1950s movies, when India was a hopeful new nation, are markedly different from films we've seen in the recent past – their issues, subjects and even attitude reflect the era in which they were made. The topics that entertained 1950s audiences won 't work in 2022, but the humility that was often displayed in this era seemed to have been replaced by pride and anger.
Soon after India became a republic, there was a sense of optimism among the masses. The independence we had acquired after a long struggle was to be a turning point for us. It was supposed to be a new dawn so when things weren't looking as utopian as some might have imagined, the filmmakers took a step back and reassessed the circumstances. Social issues like unemployment, lack of education, the way industrialization was replacing manual labor, wealth disparity – these were big concerns and 1950s movies addressed them, often disguised them in song and dance, and a story that did not seem to be preached.
Raj Kapoor's 1950s on-screen avatar linked to the common man.
The year after India became a republic, Raj Kapoor Awara becomes an international success. On the surface, the film was a love story that wondered if its inherent nature could be mastered by its peers, but the film's subliminal message was about poverty and class differences. The film examined the fact that choosing the right moral path isn't always easy for someone struggling with something as basic as putting food on the table. The importance of education was also the central message of the 1954 film Boot Polish which followed two pre-teen children who live on the streets. This film also ended with a message of hope that seemed to convey to the government that protecting children equals protecting our nation's future.
The subject of unemployment, highlighting those who struggle despite being well educated, has often been seen in films like Pyaasa and Shree 420, as they also talked about the growing wealth disparity. Despite the big and difficult issues these movies tackled, it was all wrapped up in entertainment and had hope at its core. The filmmakers portrayed real-life problems as they saw them, questioned leaders about basic necessities, but always hoped that the next chapter in our country's development would change the course of the nation.
For example – Naya Daour, which could look like a story of two friends who tear each other apart because they love the same women, can also be seen as a story of man against machine. The uneducated masses of the village are afraid that the introduction of machines will take away their livelihood. After presenting the two arguments, director BR Chopra concluded that there must be a middle way, a way where technology can help the progress of the nation, but also includes the large part of the population that depends on manual labor. . Nearly ten years after independence, optimism for a better future remains. And this optimism was systematically accompanied by a humble question to the government: "When will things get better?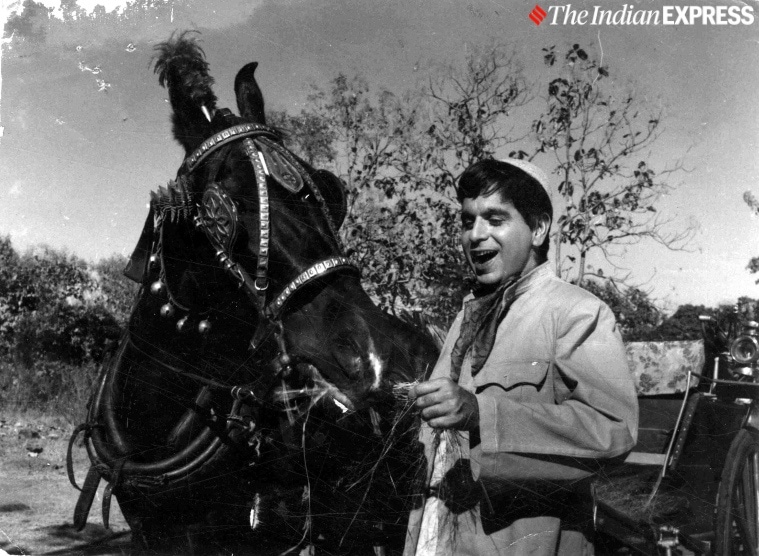 Dilip Kumar's Shankar ignites the spark of revolution in Naya Daur. (Photo: Express Archive)
After decades of questioning the powers that be, Indian cinema has stopped asking this question in recent years. Instead, a tone of complacency took over as patriotism and nationalism merged, leaving no space for questioning the authorities. As Hindi cinema makes more and more biopics, especially about national icons, we seem to be patting ourselves on the back. Mission Mangal, Uri, and many other films based on "real" events highlighting India as a formidable power eliminate any possibility of raising questions about how these feats were achieved in the first place. While some of these exploits deserve all the recognition they can get, asking authorities to be transparent is often seen as a challenge. Living in 2022, you could say that life today is better than it was in the 1950s, but not asking relevant questions in one of the most popular art forms of the time eliminates any chance of a speech, where two minds might agree to disagree.
Over the past decade, nationalism in Hindi films has been translated into cops disbursing their own version of justice, with no regard for upholding the law. Despite the many real-life instances where police brutality was questioned, cinema presented the Men in Khaki as their new heroes, especially when delivering justice to vigilantes. Using violence to seek justice or a voice has been a common motif in many movies we've seen in the recent past. Ram Madhvani events Dhamaka are triggered because a daily worker cannot find the right platform to share their grievances. In Mom, Sridevi's latest film, her character turns into a vigilante to punish rapists. In a fictional world where even the cops don't respect law and order, why would an ordinary man buy into it?
When the most popular Hindi film franchise brags about cops who don't respect law and order, what does that say about us?
Films like Bell Bottom, War and many others where India is shown fighting an external threat often have the same enemy, but what about that threat that does not come from our immediate neighbors in West? At Anubhav Sinha Article 15, unique film in the current landscape, the filmmaker questions not only the system but its social contempt. Going a little further, Amit Masurkar's Newton talks about the flaws in the system and how the truth of a situation cannot be determined by individual circumstances.
by Zoya Akhtar Ravine Boy effectively communicated that the gap between rich and poor is so wide that people on either side cannot comprehend the breadth of this spectrum. The subject of wealth disparity, which has been a recurring theme in our films, is no longer considered mainstream, but that's not because it doesn't exist.
Cinema has changed dramatically over the past seven decades, but storytelling as a basic tool hasn't changed much. The 1950s, in many ways, were braver times and the 2020s still muster the courage to make cinema that can represent us for future generations.